Custom Coffee Packaging – Coffee Bags
Product Detail
Product Tags
Guide To Choosing Your Brand's Perfect Coffee Packaging Solution
Just like there is a range of different types of coffee beans, roasting styles, and forms coffee is sold in. There are a range of packaging options for coffee, in the ever-developing world of selling coffee. Coffee packaging options include:
● Material Choices: from long shelf life materials to Compostable coffee packaging.
● Configurations: Square Bottom, Flat Bottom, Quad Seal, Stand Up Pouches, flat pouches.
● Features: Degassing valves, tamper evident properties, tin-ties, zippers, pocket zippers.
Most customers come to us knowing what type of configuration, size, and features they want based on factors such as storage conditions, shipping, and the selling environment, and whether the coffee is being packaged for retail or industrial customers.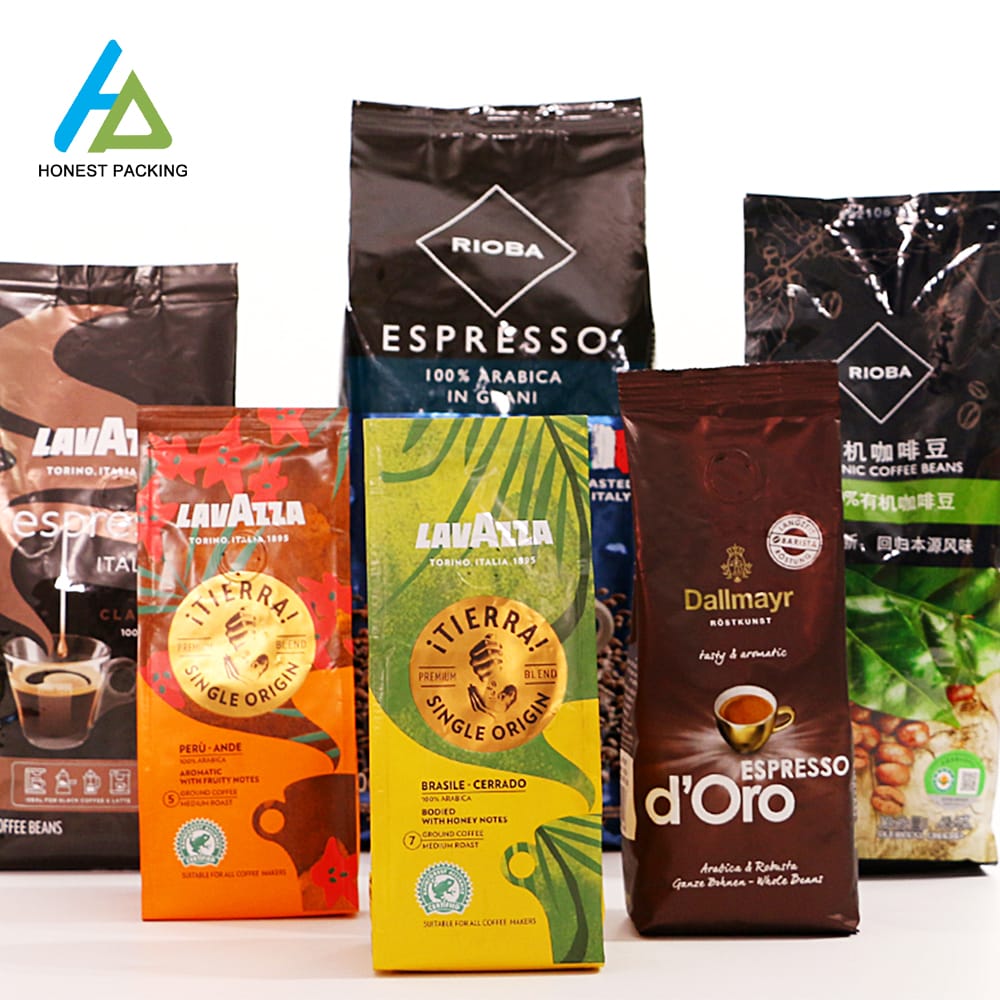 Often customers want help selecting a printing choice, and quantities they can afford for custom coffee bag. If you are decided on the configuration you want to work with here are some general suggestions and a overview of some of the available options for coffee packaging.
Custom Printed Coffee Bags Configurations
Will you be hand-filling your coffee bags or are you considering automating with coffee packaging tools? If you plan to hand-fill your coffee bags. It is generally recommended that you pick a configuration that has more space in the top to allow you to easily scoop in the coffee.
While hand-packing reduces machinery costs, it drastically reduces your fulfillment quantity, accuracy, and ability to ramp up production. Most modern coffee packaging machines work with multiple bag styles and sizes.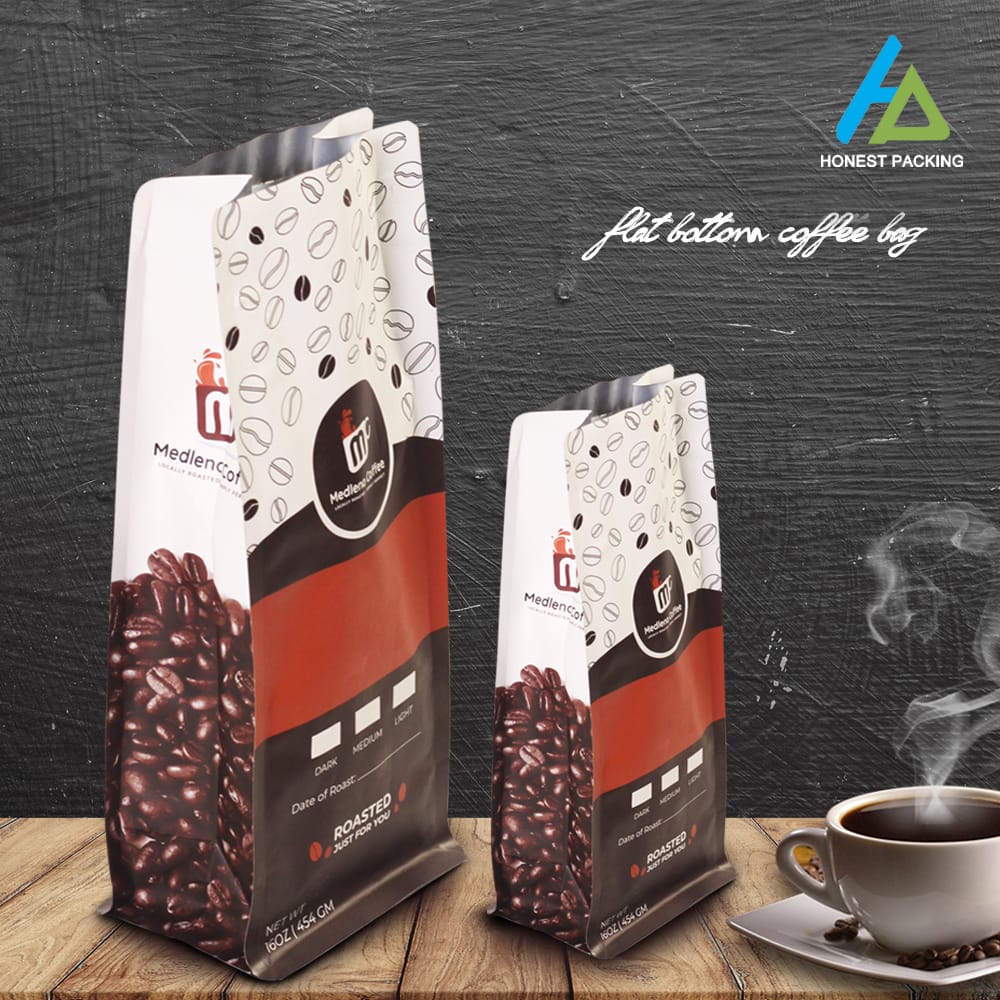 Side Gusseted Coffee Bag
Side gusseted coffee bags have become another very common coffee packaging configuration. Less costly than the flat bottom coffee packaging configuration, but still holds its shape and can stand independently. It also can support more weight than a flat bottom bag.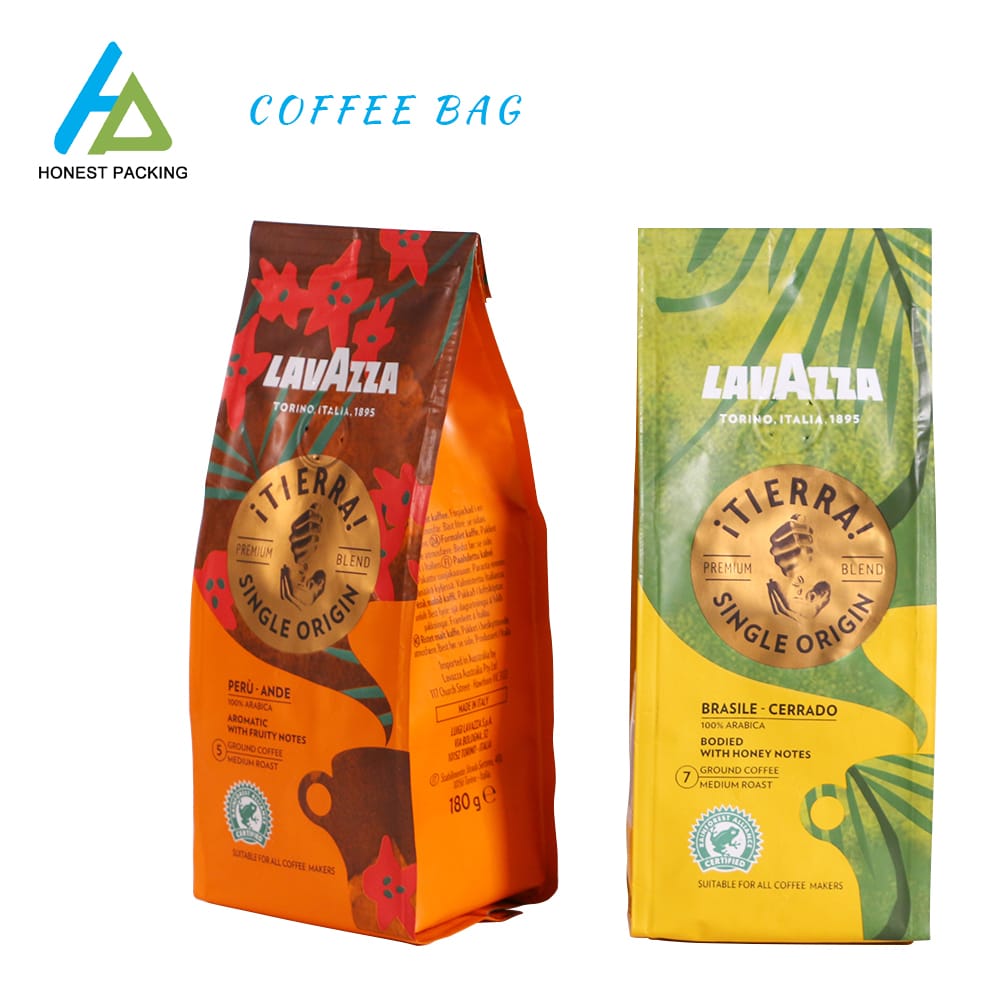 Quad Seal Coffee Bag
Your coffee will love our quad seal pouches. This gusseted bag is a popular coffee packaging design due to extra real estate for branding. Gusseted sides provide room for more coffee and sits great on a shelf just like our other stand up coffee pouches.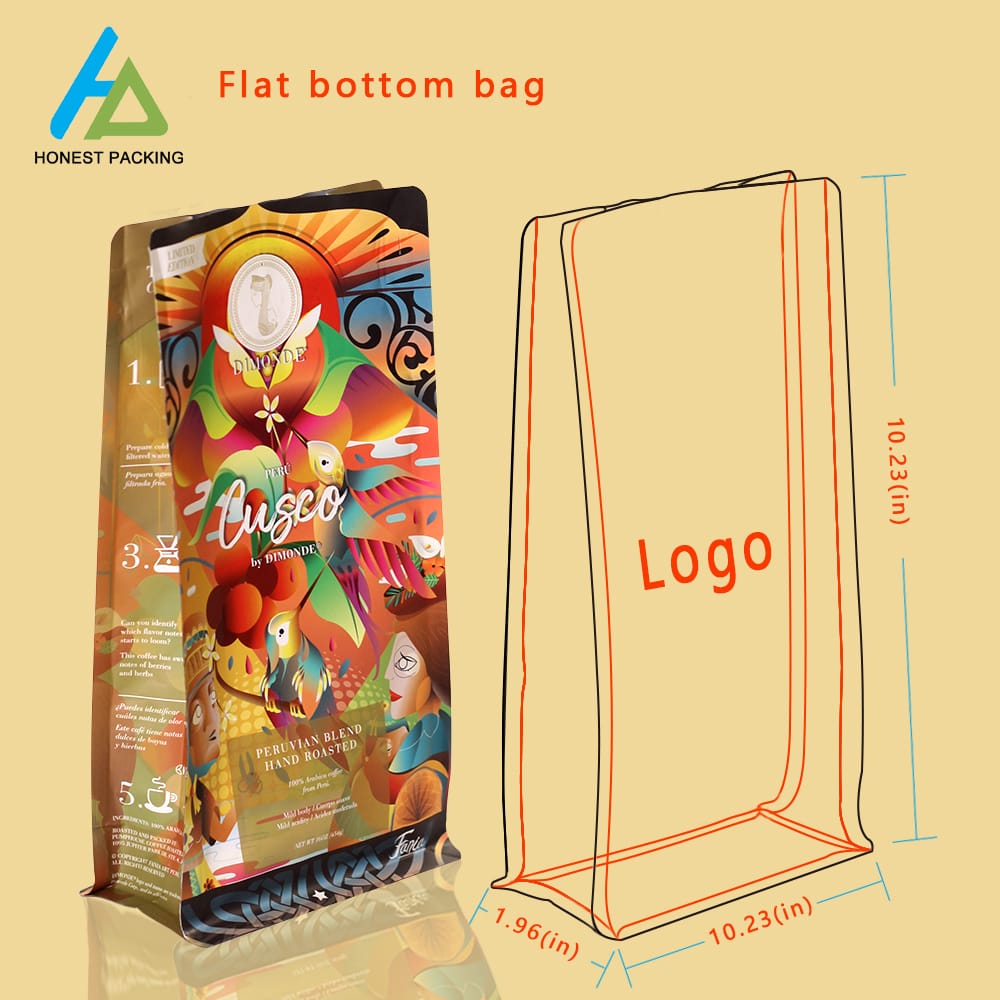 8-Seal Square Bottom Coffee Bag
The flat bottom coffee bag, also called block bottom coffee bags, is a traditional format that has been popular for years. It stands independently and creates that classic brick shape when the top is folded down. A disadvantage to this configuration is it is not the most economical at smaller quantities.
Coffee Packaging: Zippers, Tin Ties and Degassing Valves
With 5 re-closable zipper options we can make sure your coffee is built with the proper zipper option. Quality re-closable zippers help maintain freshness during consumption. These reclosable options can be employed either independently or together in your coffee bean packaging. These choices are very popular, and have a traditional look, drawbacks include a) higher price points, b) they are not as airtight as a zipper.
Our Bags are great for ground coffee, whole bean, roasted coffee or green coffee. We work with coffee shops, coffee roasters, and companies large and small. Give us a call to learn how we can help. Also if you're selling a few hundred pounds of coffee per week at local events like Farmer's Markets and the local grocery co-op, we're here for you.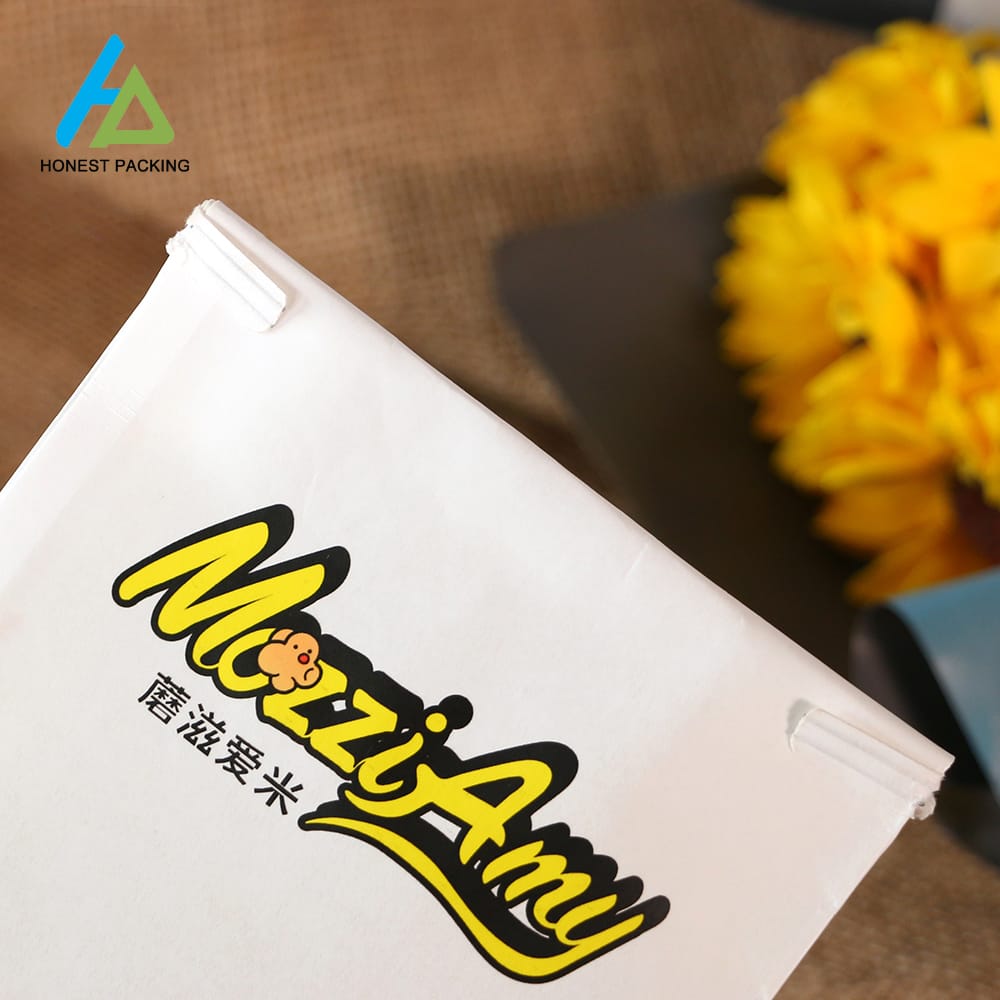 Tin Tie
Tin Tie closures are a popular option for coffee bean packaging bags. Pouches stay closed after the coffee is opened by rolling down the bag and pinching each side shut. A great style choice to lock in natural flavors.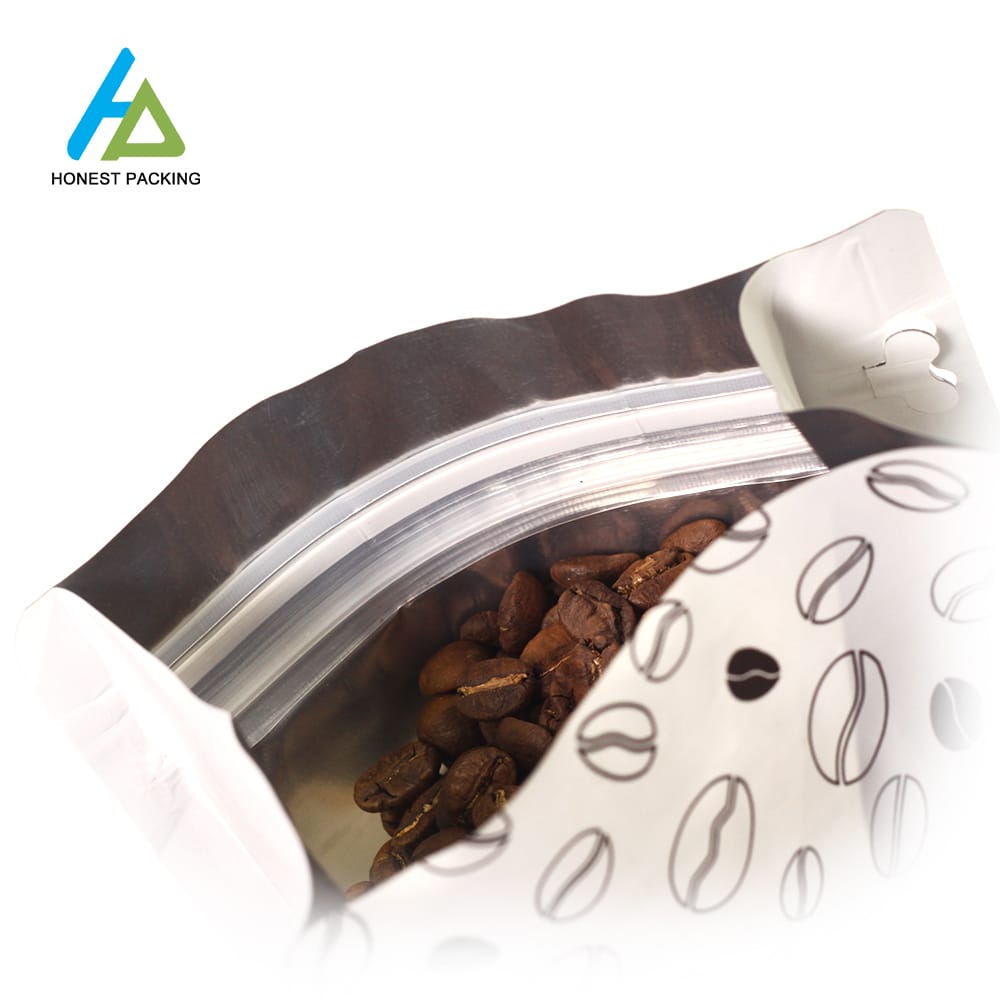 EZ-Pull
EZ-Pull closures is a style suited well for roasted coffee. It works well on gusseted coffee bags and other pouches as well. Customers love the ease of opening. Perfect for all varieties of coffee.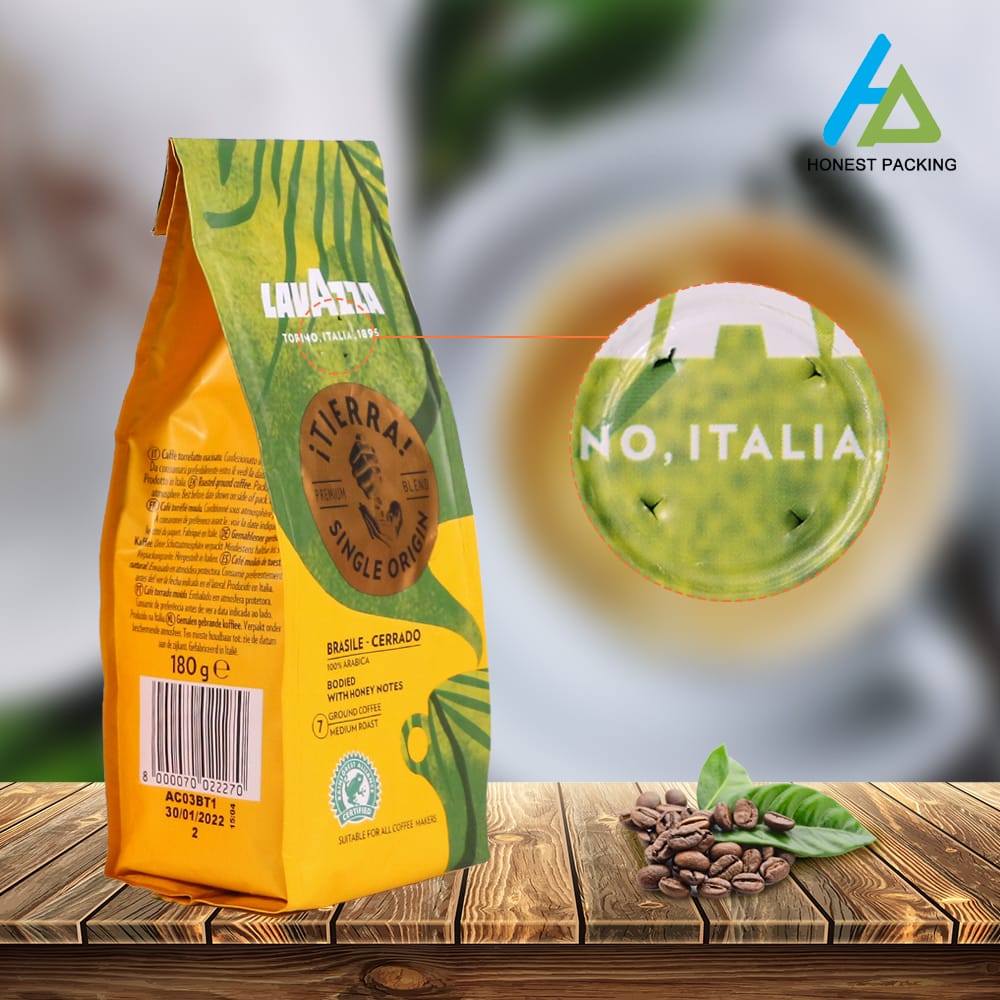 De-Gassing Valve
If your coffee products should be protected from oxygen after your packaging is opened, a De-Gassing Valve is what you need. This style of one-way valve allows gasses to escape without letting oxygen in. Once opened, the end-user can push the air out of the valve, keeping the product fresh for longer.
Q: Is it safe to add a clear window on coffee packaging?
Adding clear window is a good idea but it would cause the contents to be exposed to light. Exposure to light is the biggest culprit when it comes to stale beans so we don't recommend it.
Q: Do you offer tin tie coffee bags?
Yes, we do offer tin tie coffee bags that many customers have come to expect. Contact us for information to get a quote.
Q: Are your coffee bags smell proof?
Yes, all are products are smell proof bags from stock bags to custom bags. We make it sure that it feature smell proof bags especially with coffee packaging.
Q: Can I use biodegradable coffee packaging?
First, a good coffee packaging bag is built from the right materials, compostable and biodegradable materials have become very popular, but won't have the same self life potential of more traditional materials that offer a more active barrier against moisture, dust, ultraviolet rays, and a variety of other environmental factors that can affect the quality of your coffee.
---
---
Write your message here and send it to us